Val DiGiorgio
http://valdigiorgio.org/
July 15, 2021 /PRSearchEngine/ — The Val DiGiorgio Scholarship Foundation is pleased to announce the winner of the first annual Red, White & Blue Scholarship: Elijah Warren!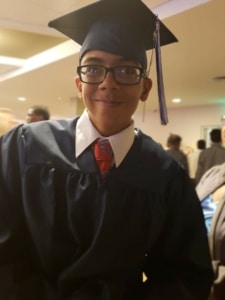 Elijah Warren has just completed his first year at Shippensburg University of Pennsylvania, where he maintains a 3.0 GPA.  He is a graduate of Manheim Township High School in Lancaster, PA.  Val DiGiorgio and his team selected Elijah as the first-ever recipient of the Red, White & Blue Military and Law Enforcement Scholarship in recognition of his commitment to his country and his unwavering patriotism.
In his winning essay, Elijah Warren detailed his experience growing up in a military family.  When devastation struck on home soil in 2001, Elijah's father sprang into action to protect his nation and his family by enlisting in the United States Armed Forces.  This courageous and selfless decision pulled Elijah's father from his young family.  In his essay, Elijah reflected on how growing up in a military family taught him about individualism and American values.  Being introduced to military family life at a young age, Elijah learned early on that freedom is not free;  rather, it is thanks to the brave acts of the men and women who serve our country both at home and abroad.
Val DiGiorgio and his team thank Elijah Warren and his father for their service and courage.  The Warren family is a testament to the strength maintained by military families across the country and stationed overseas.  The DiGiorgio family and Red, White & Blue Scholarship Foundation team look forward to the bright future ahead for Elijah Warren as he continues his studies at Shippensburg University.
The Red, White & Blue Scholarship recognizes the service of not only members of the military and law enforcement, but also the accomplishments of their families.  Philanthropist and lifelong supporter of the US military, law enforcement and first responders, Val DiGiorgio developed the Scholarship in collaboration with his wife, Carolina DiGiorgio.  Community conscious, the DiGiorgio family are passionate about community outreach that counts.  Through their Red, White & Blue Scholarship, as well as the Valentino DiGiorgio STEAM Scholarship, Val and Carolina actively seek to empower through education in communities across America.