Alacrity Care
hello@alacritycare.com
https://www.alacrity.care
FOR IMMEDIATE RELEASE
Alacrity Care's remote patient monitoring technology for oncology patients with febrile neutropenia opens up doors for further product validation in a clinical setting
Los Angeles, CA, April 20, 2021—Alacrity Care is pleased to announce their remote patient monitoring (RPM) algorithm for febrile neutropenia has received patent approval. Febrile neutropenia is a common side effect of chemotherapy that suppresses the bone marrow from producing blood cells and poses a risk to oncology patients during treatment. This technology combines artificial intelligence with patients' biometric data for early detection and triaging of neutropenic events 6-12 hours ahead of the current treatment paradigm in Alacrity Care's early experiences.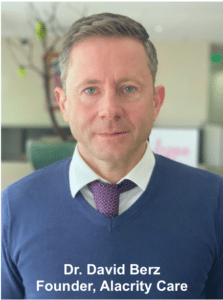 Alacrity Care recognizes this approval as an opportunity to validate their RPM technology in future clinical settings. This algorithm will allow oncology clinicians and pharmaceutical companies running clinical trials on oncology therapeutics to monitor their patients remotely and recognize negative side effects early. Alacrity Care is excited for future partnerships and clinical trials with this RPM model.
"This approval helps cement our position at the forefront of digital health in oncology and inaugurates a new era for the space," says CEO David Berz. This patent approval signifies Alacrity Care's place as a leader in the RPM industry and allows them to increase their presence in clinical trials for experimental cytotoxic regimens in the coming months.
About Alacrity Care
Alacrity Care was founded in 2010 by Dr. David Berz, MD, PhD, MPH, a leading oncologist with a vision of creating better outcomes for cancer patients in under-served populations and enabling equal access to quality healthcare. Alacrity Care provides patients with equipment that monitors vital signs and allows providers to respond in real time.
CONTACT
For more information, please contact [email protected].
Alacrity Care is located at 2080 Century Park E, Suite 710, Los Angeles, California 90067.